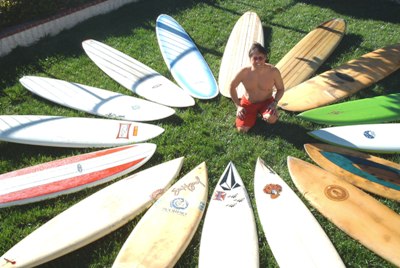 Phil Delgado
Besides the fact that I like collecting surfboards and unique art and memorabilia, I like to surf too. I started surfing at an early age in 1964 (I was 13), during the time when we would peroxide our hair to make it look like we've been living down at the beach and since we didn't have sun block we would have peeling skin on our noses. All the guys wore Levi's and either Purcell's or Van's (blue or red).
My first surfboard was bought at Fed-co in Anaheim because we couldn't afford one from a shop. It was a pop out board with no stringer, all green except for very simple intersecting lines from masking tape that was blocking the green pigment when it was applied. I had a brother-in-law that helped me learn how to surf in San Clemente, he was a life guard in Huntington Beach at one time and knew the ocean. He showed me how to spot a rip and where the peaks would break from the sand deposits. It was great to be in the water with a surfboard and be able to feel the rush. I didn't really use that board all that much but it did get me started. I loved being in the water and would later find myself in Hawaii during the Vietnam War. That's when I really got the bug (as Rabbit would say), it bit me really good there and it hasn't stopped. Hawaii was the best place for me to be and for about a year I shared a house in Ewa Beach with 3 other guys.
My next board was from Bill Stonebreaker. One of my house mates, Jamie Dodson, knew him and had some of his boards. I loved that diamond tail short board I took it everywhere I went, Hawaii, Guam, Mexico, and California. Living in Hawaii (Navy, Communications) was great. We would dive for lobster and stock up the freezer for a party we would have when we could get everyone together. Jamie had a lot of surfer friends from the South Bay area that had transplanted themselves to Hawaii and we would surf the break out in front of the house. Ewa Beach was an easy South Shore break that didn't get that big but it was a great place to have fun and party. I think of those times as my formative surfing years and my growth as a surfer and waterman.
I look back fondly on those days of my youth and now being with a group such as the Longboard Collector Club I can reflect to those days of first experiences all over again. Great nostalgia wouldn't you say?
Phil Delgado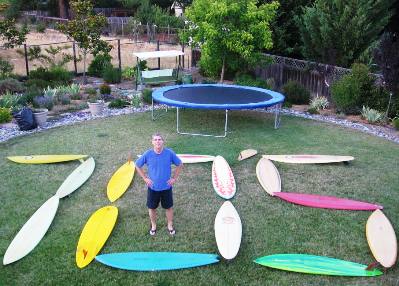 Nick Van Bruggen
Like most young surfers, I didn't start out with much respect for my surfboards. After a couple years on canvas air mats, I convinced my father to buy me a surfboard for my 14th birthday. For $30, we acquired a very well used early 60's Scofield. It only took a couple of trips to the beach for me to tear off the skeg. Since I knew nothing about surfboard repair, we made a trip to our friendly neighborhood surf shop. The kindly shop owner growled "I wouldn't give you two @#$ing cents for scrap @#$ing foam for that board!". This was the summer of 1968 and this shop, like most at the time, had a large inventory of unwanted "longboards". So for $20, I walked out with an early 60's Weber.
It only took a few trips to the beach to discover I was a kook, because I didn't have a shortboard. Well, I still had the old Scofield and a friend who "knew how to shape surfboards". So the glass came off the Scofield and it was reshaped into an 8' pintail. Of course, the board didn't work at all. In hindsight, it probably had something to do with the fact that neither my buddy nor I really knew how to shape (or glass, or sand, etc). But we were having fun, so the Weber went next, then the Scofield again, then a few real blanks. Eventually, the boards got to the point where they were only semi-awful.
I finally realized that my surfing ability, although limited, was being held back by my primitive surfboards. I started buying real surfboards, made by real craftsmen. This was more expensive than making my own and I wanted a new board every 4-6 months. So with every new board acquisition, the old board was sold. Some real gems came and went. There was a beautiful, purple tinted Channin/Diffenderfer and an airbrushed Haut, among others. I try not to think about those lost loves too much!
The years rolled by and the boards came and went. I got by for 35 years with a three board quiver: an every day board, a big wave board and a longboard. Then one Saturday morning, while "yard sailing" with my wife, I stumbled across a 70's single fin. The asking price was even less than my first surfboard in 1968, so how could I resist? Next, a friend gave me his old 70's board. Now, I wanted to actually ride a 70's single fin again and the boards I had were too small. So I started looking for a nice rider.
In the process, I discovered how diverse the 70's boards actually were. Some were nicely foiled, almost like a modern board. Some had flat decks and thick, blocky rails. A thought started rolling around in my head. Wouldn't it be cool to get an example of all the boards from Santa Cruz shapers of the 70's? I could take them all down to the beach one day with a group of friends and try them all out. Throw in some food and refreshments and you would have an event!
So the first goal of my collection was established. I still have a few holes in the 70's Santa Cruz wing of my museum (garage). I have a short attention span, so I sometimes get distracted along the way to my initial goal. I have veered into the transition era, probably because my first new board was from 1969. Also, there are Bonzers, MR Twins and even a few 1960's boards in the mix now. Probably 1/3 of my current collection consists of 70's boards, so as a group you could call them my Prized Possessions.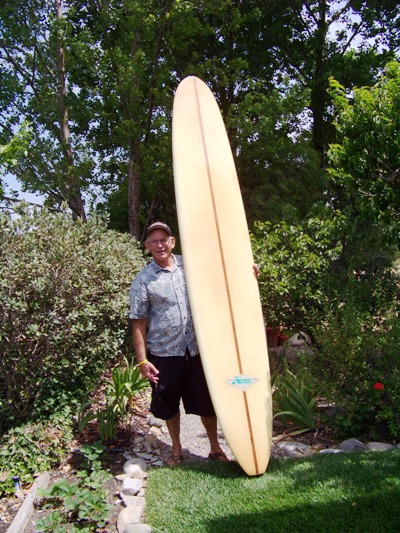 Roger Mann's Prized Possession

I am a retired high school teacher. I reside in Los Alamos, California and taught in Lompoc. I left Long Beach after graduation from Cal-State Long Beach. I have an understanding wife, 3 children, and 5 grandchildren. I have been collecting seriously for 20 something years and I began surfing in grade school as a native of Long Beach, California. In junior high school, I belonged to Holo Kai surf club and surfed Seal Beach, Surfside, and Huntington Cliffs. Though I had many years when I didn't surf, I began to come back in the 80's and have been surfing regularly ever since.

I enjoy a 42 board (1960's foam) collection. I have been selling, trading, and repairing surfboards to get the best examples I can afford that precede the "model" surfboards (though I have a few). "Plain Jane" boards have always interested me the most. My first board was a Wardy and I later rode Haley and Jacobs surfboards. All were built prior to 1965 and had ¾" redwood stringers, so I am stuck on these boards. The shortest board I ever rode regularly was a 7'10" fun shape. Currently, I ride modern lightweight boards 10' long in small surf (Pismo Pier, Jalama, Gaviota Coast, Santa Barbara).

I never wanted boards with a bunch of stringers or color. It just didn't seem to fit in my personality and budget. Most of my boards came from fellow collectors who were clearing out their inventories or getting other sticks. Many were purchased years ago before the boom and required some work.

The Hobie is a great old board. It looks like what I was riding in the early 60's. I began surfing dodging stingrays and surfboards at Ray Bay in Seal Beach. The balsa Velzy Jacobs I was riding was borrowed and my father bought me a new Wardy just like this Hobie. The Wardy quickly became "battle worn" and was replaced by a used 10'6" Haley. I surfed hard through junior college, then turned my back on surfing during the shortboard revolution. Now, every paddle-out is "special."

I became interested in the Longboard Collector Club when John Bowers (he was a good mentor) invited me to attend a meeting. It has been a great "fit" for me and a wonderful way to network with other collectors. I also enjoy learning about the history of surfing, and the members are very knowledgeable. I enjoy the meetings and I am an active volunteer in the group.
Erwin Spitz
Erwin is a member of the Board of Directors and past President (4 years) of the Longboard Collector Club. He is an avid surfer and hot rodder. He has been collecting surfboards for over 30 years. He retired from the Telephone Company a few years ago after 30 years of service. Now, he devotes his time to "fixing stuff" with his own home repair business. Erwin can do it all! Erwin began surfing in the early 60's in Seal Beach with friends from high school. He would get dropped off by his mom before he could drive and spend the entire day at the beach. When he was driving age, he would go with his friend, George, and sometimes during school hours. He would surf up and down the coast whenever he could, and took his first trip to Mexico (with friend Jim) when he was 16 years old in his girlfriend's mom's 65 Ford Falcon wagon because they blew the transmission in a co-owned '49 Buick fastback that cost $99.95 from a local used car lot. "No car over $99.95." Those were the days! After high school, Erwin attended college and did a Viet Nam tour while in the Army. He also married and had three children. He states he has been "married for 37 years, 22 years to his current wife." He "got lucky the second time around." Erwin has surfed around the world. His home break is Doheny and San Onofre, but he has surfed Costa Rica, Hawaii, Australia, and several locations in Mexico. He has weaned his collection from over 150 surfboards to about 15. These two boards are "special."
Yellow Board
The yellow board is a Velzy Rope Logo Balsa. It was made in '51. It was painted and a "Surfboards by Phil" logo was added by the movie studios to be used as a prop. The board was Eskimo's in the movie, "Ride the Wild Surf." It was also used in the TV series, "Gidget." The board is signed by Kathy Kohner (The real Gidget), Dale Velzy, and Sally Field. There is a story about the board in the Surfer's Journal v.2,#3, and the "Surfing" book by Shiffer on page 65.
40's Redwood-Balsa
The top board belonged to "Waltah Clarke." He was a beachboy at Waikiki with Duke and did an album of Hawaiian music with some of the beach boys and the Duke. The board was on display at the Outrigger Canoe Club for many years. The board was later shown at the"Waltah Clarke" clothing stores. The stores were located in Hawaii, CA. and FLA. It eventually ended up at his estate.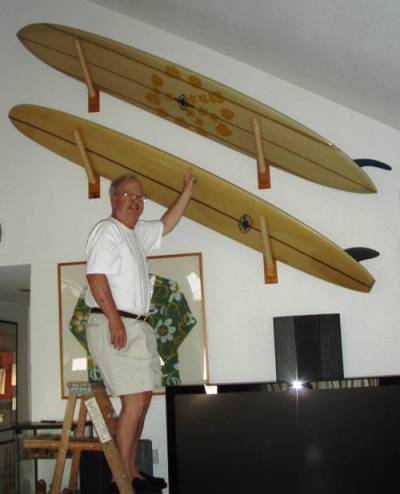 Jim Oneal's Story and Bing Pipeliner
Jim Oneal retired in 2006 at the rank of lieutenant after 32 years with the Los Angeles County Sheriff's Department. His last 10 years of service were devoted to assisting in the planning, developing, implementing, coordinating, and managing the Department's automated information technology systems. Jim's relationship with the Sheriff's Department actually began in May 1972, when he became a Reserve Deputy and volunteered over 2000 hours of patrol time while assigned to Altadena Station. In March,1974, he made a career change when he "went regular" and entered the Sheriff's Academy. After graduation, he worked assignments at the Hall of Justice Jail, Bailiff's Bureau, Men's Central Jail, and Altadena Station. In 1983, he was promoted to the rank of Sergeant and remained at Altadena Station as a patrol sergeant and later assumed administrative duties. In 1985, he transferred to the Court Services Division Headquarters, first serving as the Budget and Training Sergeant, then as the Chief's Aide. In 1988, Jim was promoted to Lieutenant and assigned to the Inmate Reception center where he performed as watch commander, and later, administrative lieutenant. Between 1990 and 1996, he worked patrol and administrative assignments at Marina del Rey, Lomita, Lennox, and Carson Stations. In 1996, he moved to Data Systems Bureau as the Custody Automation project manager and was responsible for implementing the network infrastructure, computers, and software applications needed for improved jail population and information management. During his law enforcement career, he was awarded two Distinguished Service Awards, the Exemplary Service Award, and the Meritorious Service Award.
Jim's interest in surfing started when he was 12 after seeing (surprise) the movie "Gidget". A Pasadena neighbor whose family had a summer cottage in Oceanside caught the bug too, and bought a used balsa board from Phil Edwards out of his garage (no, he doesn't still have it!). Jim rafted until he could drive himself to the beach at age 16, and taught himself how to surf at Trafalgar Street in San Clemente, and California Street in Ventura. All of his high school buddies surfed, so there was always a road trip south or north almost every weekend. Those were the 60's, and they didn't have wetsuits, much money, or much brains but somehow survived! In 1965, Jim attended the University of California at Irvine, where he obtained a Bachelor's Degree in Fine Arts and surfed in his spare time. It seems he's always needed to be near the water. Unfortunately, work duties caused Jim to quit surfing in 1974, but he still has his old Wardy board to remind him of the good old days (which definitely are "the older I get the better I was!") He currently resides in Manhattan Beach with his wife Delois and son Jim. In his spare time, he participates in various classic chevy events, and is still an avid collector of vintage surfing memorabilia despite having pretty much run out of room to keep it all.
Jim joined the Longboard Collector Club in its early stages, about 1994. He has about 25 boards, 9 of which hang in his living room, which is decorated in rattan furniture with a Hawaiian theme. His garage has another 11 boards on display, and others tucked away in the rafters. If you saw his collection, you would swear they are all 10's on the 10 scale! This includes a 1965 Gordon and Smith, 9'6" blue tint, board that has never had wax on it or been in the water. It came from a old surf shop in Santa Cruz that had shut down in the 80's, and was new old stock found in the back room. Another collector got it back then, and swore he'd keep it forever, but when he needed some financial help a few years ago he called Jim and it found a new home.
The board Jim is pictured with is a 1967 9'4" Bing Pipeliner, with yellow flowers on the deck. It's special because it was a garage find in Redondo Beach in 1994. It had been purchased in Mexico in 1972 from another surfer down on his luck and in need of a few bucks. The new owner had ridden it a couple of times, didn't like it, and put it away in the rafters! It still had the old paraffin wax on it, but was unmolested...a real 10! After some prolonged, anguished negotiation, the board was Jim's. Yup, keep looking guys, they are still out there!
PS Remember the "bogus Da Cat" caper from 1995? There were six counterfeit boards made, and Jim bought one. After finding out it was counterfeit, Jim was "the sheriff" who led the effort which resulted in the bad guy being arrested for grand theft, and all the victims getting their money back. Today, the black board Jim bought hangs from the ceiling in ET Surf, Hermosa Beach, if you want to take a look!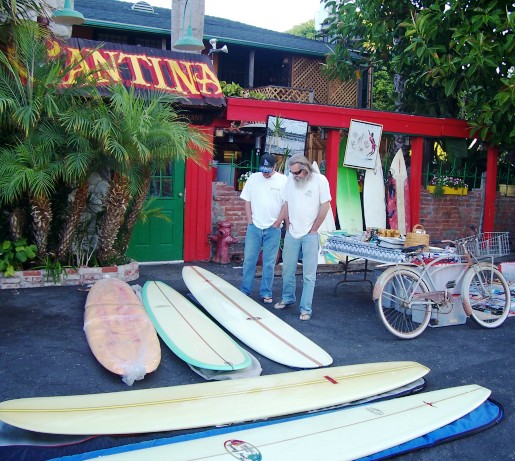 "Prized Possessions!"
Here is your chance to show off your favorite LBCC possession. Submit your photograph along with a detailed description of your prized possession to Roger Mann rmann@longboardcollectorclub.com
Copyright © Longboard Collector Club 2007. All rights reserved. Website Designed by Steve Jugan Integrated Design Studios